Ini Ememobong Foundation, Hensek Promise to Donate More PPEs to UUTH
As a part of efforts to contribute to the fight against the spread of Covid-19 Virus that is ravaging the World, the Ini Ememobong Foundation in partnership with Hensek Engineering on Friday visited the University of Uyo Teaching Hospital to donate, liquid soaps, sanitizers and other improvised washing equipment to the University of uyo Teaching Hospital, Uyo.
The team led by the Chairman of the Foundation, Comrade Ini Ememobong was received by the Chief Medical Director; Dr Emem Bassey and other Members of the Management Team of the Hospital.
In his speech during the visit, Comrade Ememobong said that "considering the critical and sensitive roles played by medical officers and the strategic status of the Hospital in the health ecosystem of our state, the foundation deemed it necessary to embark on this needs assessment visit to the Medical facility, so as to get first-hand information on the additional needs of the facility. The foundation expressed its readiness to partner other stakeholders in bridging the Gap in healthcare provision at this critical time".
Ememobong further emphasized that "this is not the time for buck passing and blame tossing, but the time for people to ask how they can help in reducing the rate of the spread of this virus, and so, as a Foundation, we are here for this reason".
Responding, the Chief Medical Director of UUTH, Dr Emem-Abasi Bassey commended the efforts of the foundation in fighting the virus in the state, adding that the contribution in the fight against the deathly virus by the foundation is appreciated by the leadership of the hospital and other medical officers.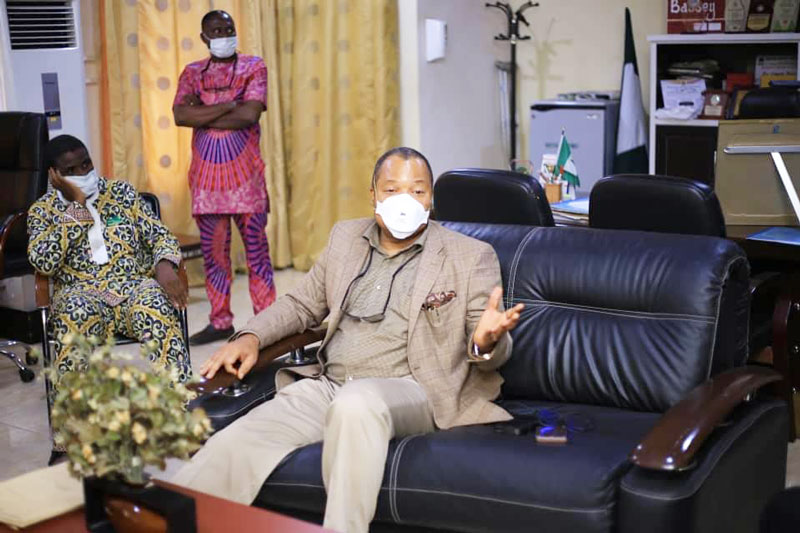 Dr. Bassey used the medium to appeal for a dedicated power supply line to the center in order to increase the efficiency rate of the facility, face masks, coveralls, gloves, hand sanitizers and other PPEs.
In their respective remarks, the Chairman and Public Relations Officer, Nigerian Medical Association, Akwa Ibom State Chapter; Dr Nyoyoko and Dr Ekem Charles commended the leadership of the Foundation for the great philanthropic gestures they have undertaken since the outbreak of the covid19. They expressed the gratitude of the association and called on other well meaning individuals and public spirited organizations to emulate the foundation.
The next point of call for the team, was the Urua Akpan Andem, where spraying was undertaken. There, the team was received and shown round by the market management committee. The technical team led by Kufre Ita Etuk commenced the spraying of the entire market, observing the World Health Organization protocol for spraying of public places.