Ini Ememobong Foundation Awards Scholarship to Chemistry Students in Honour of Ephraim Inyangenyen
…sets to build Linguistics students Park in Honour of Profs Essien, Urua.
Earlier today, 14 students drawn from the Departments of Chemistry and Linguistics in the University of Uyo got rewarded for their exceptional academic performances as the Ini Ememobong Foundation,IEF awarded them with scholarships.
For the Department of Chemistry, the Scholarship Award was doled out in honour of the Honourable Commissioner for Works, Akwa Ibom State Mr Ephraim Inyangenyen who had studied Chemistry at the First Degree level.
Addressing the students at Health Center Hall 1, Uniuyo, the Chairman of the Foundation; Comrade Ini Ememobong charged the students to be committed to excellent academic engagements while making the best of the academic opportunity, stressing that the foundation is poised to encouraging, motivating, inspiring and appreciating the best students across the tertiary institutions in the state.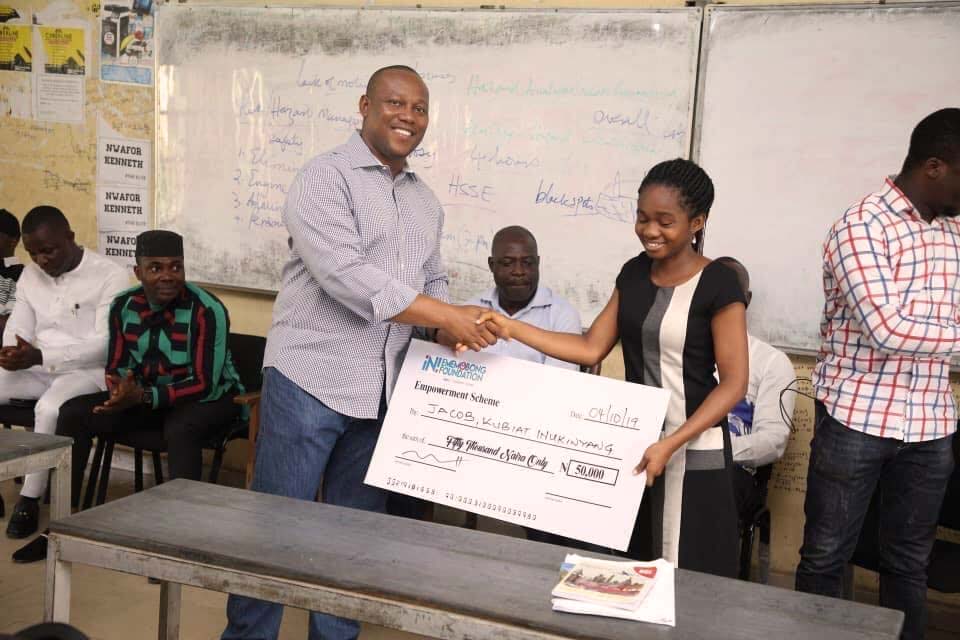 Ememobong used the medium to induct the best students into the Udom&Martha Excellence Hub in honour of Gov Udom Emmanuel.
In their seperate responses, Mfon Douglas, Precious Adile of Chemistry Department and Eucharia Emmanuel, Dr Golden Ekpo of Linguistics Department appreciated the Foundation for the kind gesture, pledging to make the best out of the opportunity as admonished.
Meanwhile, the Ini Ememobong foundation has promised to build a students' Park in the Department of Linguistics in honour of a renowned and foremost Linguist, the Late Professor Okon Essien and Professor Enoabasi Urua.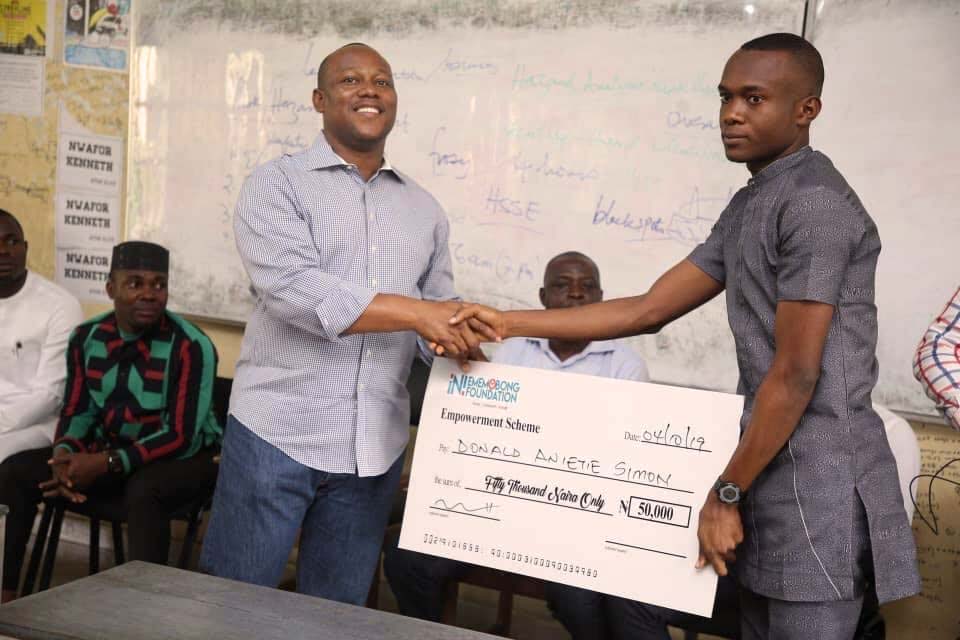 The following students benefited from the scholarship award:
Department of Chemistry
Godstime Nsidinga – 4.57CGPA (1st Year)
Kubiat Jacob – 3.81 CGPA(1st Year)
Solomon Sunday – 4.52 CGPA (2nd Year)
Precious Adiele – 4.45 CGPA(2nd Year)
Anietie Donald – 4.56 CGPA (3rd Year)
Sylvia Udoh – 4.51 CGPA (3rd Year)
Mfon Ukpeh – 3.83 CGPA (4th Year)
Ekemini Akpan – 4.32 CGPA(4th Year)
Department of Linguistics
Itoro-Abasi William – 4.64 CGPA(2nd Year)
Edidiong Otu – 4.11 CGPA (2nd Year)
Blessing Mfem – 4.60(3rd Year)
Ifure Iwuoeneng -4.21 (3rd Year)
Angelica Antiga – 4.34 (4th Year)
Aniekpeno Esssenowo – 4.13(4th Year)