Ini Ememobong Foundation Takes Covid-19 Sensitization to Parks and Markets.
Today, Chancellor of THE INI EMEMOBONG FOUNDATION and second term Publicity Secretary of the Peoples Democratic Party in Akwa Ibom, Comrade Ini Ememobong led friends and volunteers to sensitize People about the Novel Corona Virus.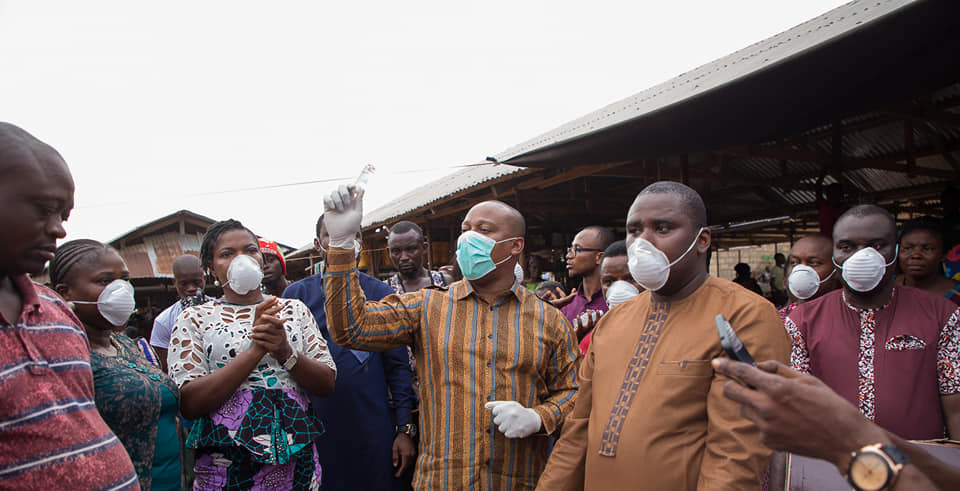 The team arrived at the Akwa Ibom Transport Company and were met by members of staff and commuters. The PRO of the Nigerian Medical Association in Akwa Ibom State who was a member of the delegation, Dr. Ekem John Emmanuel educated them on preventive measures which includes, regular hand washing amongst other things. The team also stopped over at the popular Ikpa market in Ibiono Ibom Local government. Dr Samuel Oku, Assistant secretary, Association of Resident Doctors, Akwa Ibom State, who spoke to the traders, asked that they shouldn't doubt the existence of the virus rather they should be proactive in adhering strictly to preventive measures as outlined by relevant government authorities.
The high point of the sensitization was the free distribution of hand sanitizers courtesy of the Ini Ememobong Foundation. Also on the team was, Member Hospitals Management Board, Comrade Ubon Marcus, Prince Godwin Okon, Secretary General, Ibiono Ibom Welfare and Development Union, Popular Broadcaster, Asteriod Bassey amongst others.