Ini Ememobong Donates Food Items To All Households In Use Ndon Community.
The Ini Ememobong Foundation amplifies Message on COVID 19 Preventive Measures to Villagers
In a bid to assist inhabitants of Use Ndon Community live through the "Stay at Home" directive occasioned by the Corona Virus Pandemic, the Ini Ememobong Foundation has distributed bags of rice and Hand Sanitisers to all households in Use Ndon Community in Ibiono Ibom Local Government Area.
Usen Ndon Community is the country home of the Chairman of Ini Ememobong Foundation and Publicity Secretary of Peoples Democratic Party, PDP in Akwa Ibom Comrade Ini Ememobong. In every single household visited, Chairman of the Comrade Ememobong apart from the bags of rice and Hand Sanitisers gifts, took time to amplify the message of ways to prevent oneself from contracting the dreaded virus.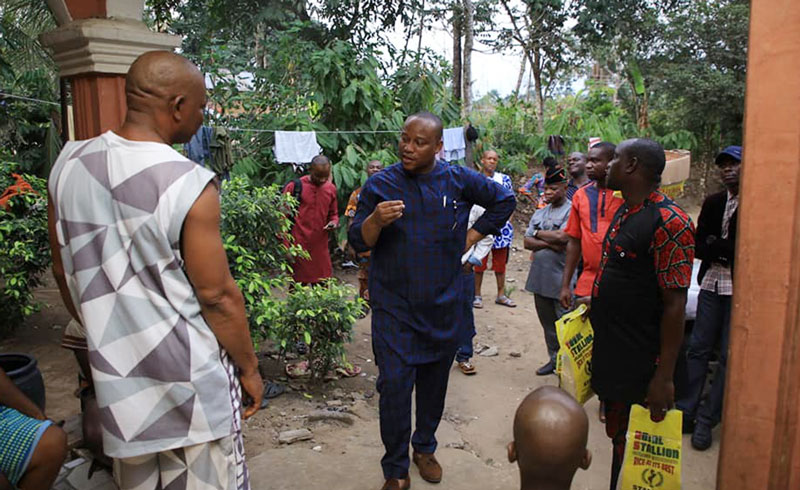 "Wash your hands with soap and water regularly, Observe social distancing, avoid touching your face, sneeze and cough into your elbow if you can't use a handkerchief, so you can't stay alive. We want you to stay alive please" Ini Ememobong reechoed in every household members of the Foundation visited.
It will be recalled that Foundation has reached out to various segments of the Akwa Ibom population with hand Sanitisers and other gift items in a bid to contribute to the fight against the Pandemic.